Subsidy consultancy
Are you looking to invest and planning to expand your production capacity? Do you want to develop and roll out a new product/process or a new service? Are you looking to further train your employees or planning to modernise corporate divisions?
Public funds help companies and parties interested in founding operations implement their projects and objectives. With regard to the political and administrative domains, we are committed to a pro-business layout of the promotion programme.
All of the assistance provided by the European Union, the Federal Republic of Germany and the state of Saxony-Anhalt revolves around the strengthening of economic power. The possibilities are very multifaceted. EWG helps companies look for the right subsidies, provides information about formalities and facilitates important contacts for the application process.
IB consulting day
On the first Thursday of each month, Investitionsbank Sachsen-Anhalt uses EWG's premises to offer:
free,
personal and
customised guidance
pertaining to Saxony-Anhalt's promotion programmes
for companies and parties interesting in founding operations.
Promotion advisor Doris Knöfel is ready to answer your questions. Take advantage of this expert knowledge! The spectrum of the multifaceted product range covers everything from classical grant funding and bonds to customised loan products. You can collaboratively keep an eye on your project and check the promotion and financing options.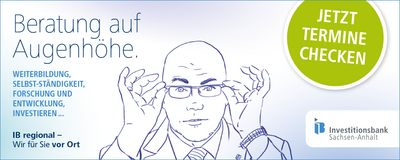 You can participate in the consulting session after registering with EWG in advance. Please give us a call or send a message.
We would be happy to accompany you during discussions with the investment bank if such a course of action is relevant to your project or the task of selecting and carrying out comparisons with other subsidies at federal or European level. We would also be glad to provide such accompaniment if you require assistance in the application procedure.